Weekly Medication Boxes
Personal weekly home visits to monitor the multiple prescriptions common with older individuals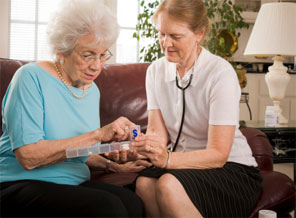 A very real but often overlooked concern is whether or not your loved one is taking their medications properly. Failing to take medications properly, depending on the medication, can impact judgement, causing the potential for this situation to continue.
As part of our Weekly Medication Box program, our nurses can set-up medication boxes on a weekly basis. This can be part of other support we provide or can be done as a stand-alone service.

In addition to helping to manage the medication, our personal weekly visit allows us to assess overall health issues and living conditions and often catch minor health and well-being issues before they become more serious. If you are interested in more information about this service, please contact us.